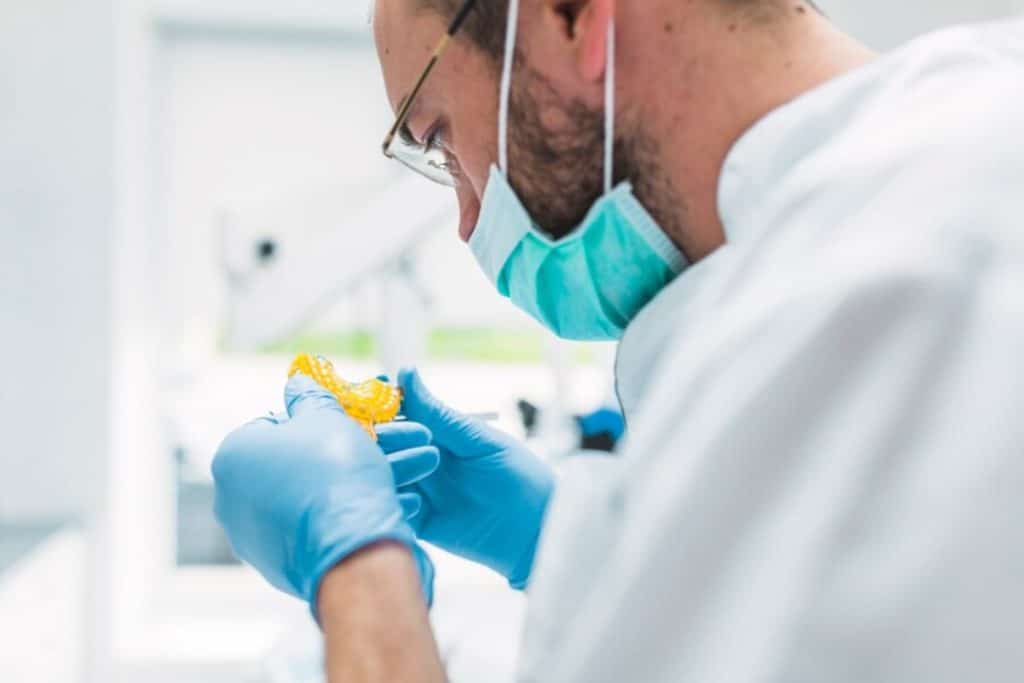 Dental prosthetics are artificial teeth used to restore lost or broken teeth. They do a lot more than enhance your smile. An absent tooth can make it tough to chew and increase the chances of getting gum disease. A lost tooth can harm the jaw's health and jeopardize the health of adjacent teeth.
In this article, we'll go through five different dental prosthetics devices so you may consult with your dentist with a clearer idea about which one is ideal for you.
Dental Crowns 
A dental crown is a new covering for a damaged tooth. A crown may be made of metal or porcelain. Crowns are excellent long-term solutions for teeth that are chipped, cracked, or worn down.  We consider crowns a relatively permanent solution. Once a crown is in place, it should last 5 to 15 years or even longer if maintained properly.
You should brush and floss teeth with crowns like any other tooth. A crown can crack or chip over time, or the cement holding it in place can soften. This can allow bacteria to move in and infect the tooth.
Dental Implant
A dental implant is one option for replacing a lost tooth. This prosthesis is inserted into the jaw and retained in position as the bone grows around it.
Dental Bridge
A dental bridge is a balance between dentures and implants when one or more teeth are lost.
A dental bridge, as the name suggests, is used to fill the gap caused by lost teeth. A bridge is made up of one or more prosthetic teeth called pontics and is generally attached to natural teeth on both sides of the gap. We may link a bridge to an implant in some circumstances for further stability and security.
A porcelain bridge, which looks like natural teeth, must be cleaned and flossed regularly. Threaders which are special flossing aids, may be required to remove debris in between the bridge and the line of the gum.
Dentures
The artificial devices that fit securely against the gums and resemble real teeth in appearance and function are called Dentures. False teeth are also another name for them. The degree of your tooth loss, as well as your personal preferences, will help to decide which type of dentures are ideal for you.
Dental Veneers
Veneers can help improve the color and appearance of natural teeth by covering them with a thin, natural-looking shell. Using the mold, laboratory technicians will make veneers out of porcelain or a resin composite material. The process may take a couple of weeks.
You need to have relatively healthy teeth to support a veneer. Veneers can last 10 to 15 years before needing to be replaced.
If you've recently lost a tooth or have had a missing tooth for a long time, make an appointment with a dentist right away. A lost tooth can cause bone loss in the area and increase the risk of gum disease. Both of these factors can have an impact on your overall oral health.
The longer you delay, the more severe, and irreversible the consequences may become. Feel free to visit our Chandler dental office, Peace of Mind Dental Studio. Call us at 480-608-5444 to book an appointment.