knowledge for peace of mind
Are you waking up with jaw pain or headaches? Has the dentist noticed excessive wear on your teeth? You might benefit from a night guard which is worn while sleeping to protect your teeth & relieve other issues. Or perhaps you are playing sports–a 

mouth guard

is also used to prevent injuries.
what are mouth guards, occlusal guards & snore guards?
These are all appliances used to protect teeth. Some prevent damage from grinding or clenching during sleep, while others are used to reduce injury during sporting activities. Depending on the type, the benefits range from reducing snoring, relieving headaches and preventing jaw pain.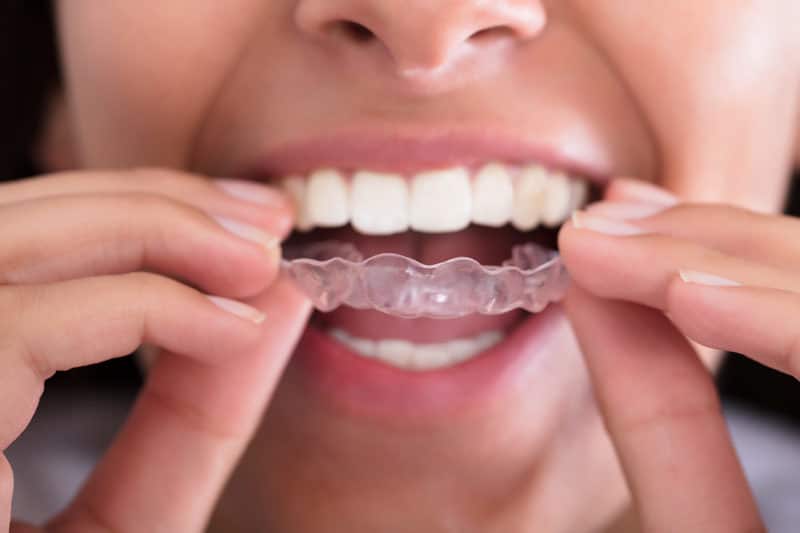 you might need
a mouth guard …
Over time, repeated teeth grinding or clenching of the jaw can cause damage to your teeth as well headaches and sleep disruption. Pain in your jaw, face and neck can often be traced back to this nighttime habit. Wearing an appliance like a nightguard shields your teeth from excessive wear.
Some guards are designed to help reduce snoring and can benefit patients suffering from obstructive sleep apnea. Another style of guard can be fabricated to relieve headaches, especially if the pain is around the temples. Or a mouthguard might be necessary to prevent injury while playing a physical sport. Often, patients don't even realize they require help!
It is important that a custom mouth guard is obtained through a dental professional. While there are over-the-counter products available, they are not recommended for long term use as there is no way to ensure your teeth are evenly touching the guard when biting down. Wearing a guard unevenly does not support the bite correctly and can cause more problems with significant jaw pain and inflammation of the TMJ (temporomandibular joint).
jaw pain
ear pain
tense muscles of mastication (the muscles responsible for chewing)
generalized tooth/gum pain
chipped or worn down teeth
headaches
snoring
you are playing a sport such as lacrosse, field hockey, football or other activities that put teeth in danger 
what to expect during the mouth guard fitting
Having a mouth guard created typically involves two appointments at our office. Read on for timings and how to prepare.
The dentist in Chandler, AZ will make measurements in your mouth as well as take impressions of your teeth and record the data.
These records will be sent to a professional laboratory for fabrication of your appliance.
Once your mouth guard has been made and delivered to the office, you'll return for a fitting. The fit will be assessed and adjustments made as needed.
Battling the effects of stress, anxiety & sleep disorders with nightguards
after you start wearing your mouth guard…
To ensure the best outcome for the procedure, it is important to: 
Include cleaning your mouth guard in your daily hygiene routine. We will advise you on the best ways to clean, treat and store your mouth appliance.

Visit the dentist for cleaning and checkups regularly.

Bring your mouth guard with you to your routine appointments, so we can professionally clean the appliance in our ultrasonic cleaner.
It is important to let your dentist know if the guard is causing any discomfort or issues after wearing. It's not uncommon for patients to require minor adjustments after beginning regular use.
answering your questions about mouth guards… 
Wouldn't I know if I was grinding my teeth?
Not necessarily. You might have symptoms that aren't happening in your mouth like earaches, sore jaw or headaches that are caused by grinding or clenching your teeth.
The dentist is also able to spot worn down teeth and and damage to enamel that is not spotted easily by yourself.
How long will a mouth guard last?
This depends on the style and material of your mouth guard. Bring your nightguards to your routine visits and we will keep an eye on their condition.
How long are the appointments for mouth guards?
The appointments are short–allow 30 minutes for each appointment
Have more questions? Please call us at 480-608-5444  or email us and we'll be able to talk you through the process.
Tips & advice from Dr. Silverman:
Planning on whitening your teeth?
 We recommend starting the use of a sensitive toothpaste, such as Sensodyne, at least two weeks prior to whitening. This helps reduce the common side effect of sensitivity from the whitening process.