knowledge for peace of mind
Dental Implants in Chandler, AZ
Are you missing a tooth or several teeth? Peace of Mind Dental Studio's highly trained and efficient staff provides the kind of dental implants Chandler residents need. We give you a strong, permanent, and natural looking tooth replacement for your best smile ever. Sometimes, when a tooth has sustained a significant amount of damage, the only solution is to remove it. Regardless of whether your tooth was damaged from decay, an injury, or something else entirely, dental implants can revive your smile and maintain your oral health.
What are Dental Implants?
A dental implant is an artificial tooth, bridge, or denture surgically anchored into the jaw with a surgical-grade, hypo-allergenic titanium post. Dental implants are recommended when a patient has a missing tooth, or has a tooth damaged beyond what a filling, crown, or other restorative dental care can fix.
Depending on the decay or damage to your teeth, your dental implants can take a variety of forms. There are single dental implants, implant supported dentures, implant crowns, bridges, and all-on-four dental implants.
Your dentist will recommend the best implant for your situation, so you can get back to smiling, speaking, and enjoying your favorite foods like normal. The Peace of Mind Dental (POM Dental) Studio in Chandler, AZ is an excellent choice for all kinds of implants, from crowns to all-on-four dental implants.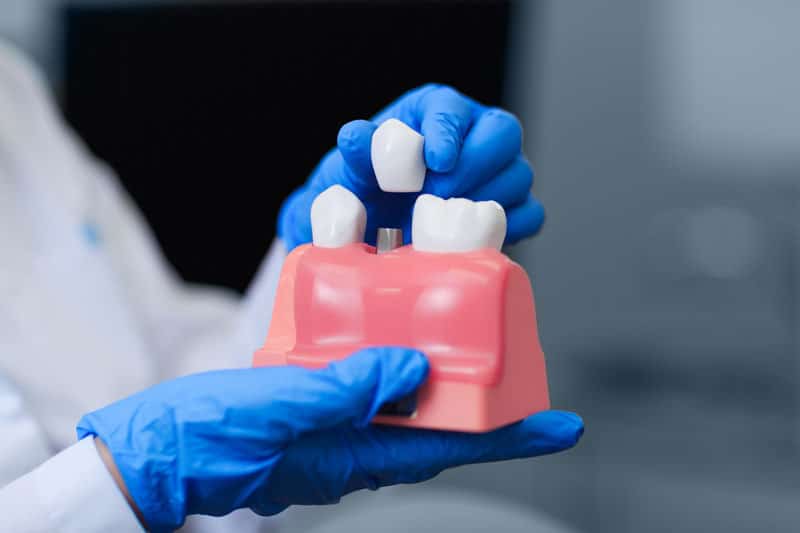 Why Do I Need a Dental implant?
When you're missing a tooth, the remaining empty socket can impact the functionality of your mouth. It can lead to discomfort while chewing and biting, as well as degeneration in your jawbone.
Dental implants are a great replacement for any tooth that needs to be removed from your mouth. Today, dental implants are endosseous, meaning that they'll function and appear similar to an actual tooth root.
This is because once the titanium post is placed into the jaw, the titanium will osseo integrated with the surrounding tissue and serves as an anchor for the artificial tooth. Dental implants also have a 97% success rate over a lifetime and can be used in a variety of situations, including implant crowns, implant bridges and implant dentures. Peace of Mind can provide you with the longest lasting dental implants in Chandler.
missing teeth
dentures that dislodge while eating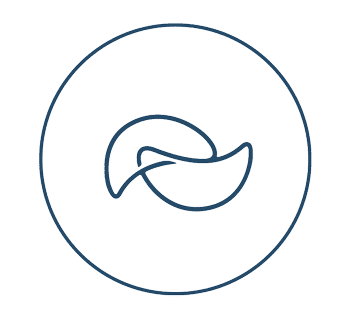 While you're familiarizing yourself with this procedure, make sure you also visit our section on how we treat you during your care with a range of nice-to-have and need-to-have patient comforts.
Distraction Methods       –     Therapeutic interventions   –     Pain management 
What Should I Expect in My Dental Implant Appointments?
Peace of Mind Dental Studio takes every avenue to increase our patient's emotional and physical comfort during our appointments, so first and foremost we'll ensure your comfort with distraction methods, therapeutic techniques, and pain management. Before coming in, make sure to familiarize yourself with how we treat you during care with nice-to-have and need-to-have patient comforts.
A dental implant procedure takes place over two visits.
In the first visit, the dentist will be surgically placing the implant into your jawbone.
If the implant will be restored with a crown or a bridge… We will take an impression of your mouth to capture the exact location of the implant, and the impression will be sent to a laboratory for your custom teeth to be fabricated.
If the implant is going to retain a full or partial denture… We will also take an impression of your mouth for the fabrication of retaining bars. There are two types of implant denture retention available. One is a more permanent retention where the dentures are screwed directly into the implants. These cannot be removed at home (like your natural teeth). The other style uses a button or snap–like connection on the implants. This allows for the denture to be removed for sleep.
Post-implant surgery After your implant is installed, your body will get to work. The bone around the implant heals in a process called osseointegration. The reason an implant is so strong is because the bone actually grows around it and holds it in place. Some patients will need to wait until the implant has been completely integrated before replacement teeth can be attached to the implant. This can take up to several months.
While your body is in the process of osseointegration, we recommend a diet of:
Soft foods
Cold foods
Warm soup
This can help reduce any discomfort and protect your new implant.
Once your mouth and implants are healed and your teeth have been fabricated, your implant is ready to be restored!
Peace of Mind Dental Studio provides the best care and the best dental implants in Chandler. Contact us today to discuss your implants.
Healing process eating
While your body is in the process of osseointegration, we recommend a diet of 
answering your questions about dental implants… 
How long does a dental implant last?
Dental implants are a great long-term option. In fact, they are designed to be a permanent solution. The implant itself, once integrated, has a success rate of 97% over a lifetime!
The implant crown/bridge/denture average 20-25 years with proper care and maintenance. The most common reason for replacement is structural damage to the restoration, not the implant.
Will I find it easier to eat with an implant than a denture?
Yes, because implants become part of your mouth, you don't have to worry about suction holding your teeth to your jaw.
Have more questions? Please call us at 480-608-5444 or email us and we'll be able to talk you through the process.
Tips & advice from Dr. Silverman:
Do distractions in the dental chair cause you more unease?
It is absolutely okay to feel this way, just please let us know and we will make sure to limit our patient comforts that are particularly distracting.  Some patients do not prefer to wear noise canceling headphones or have the ceiling mounted TVs on during treatment or wear. We want you to be comfortable and are here to accommodate to your preferences.
For more advice, visit our faq page