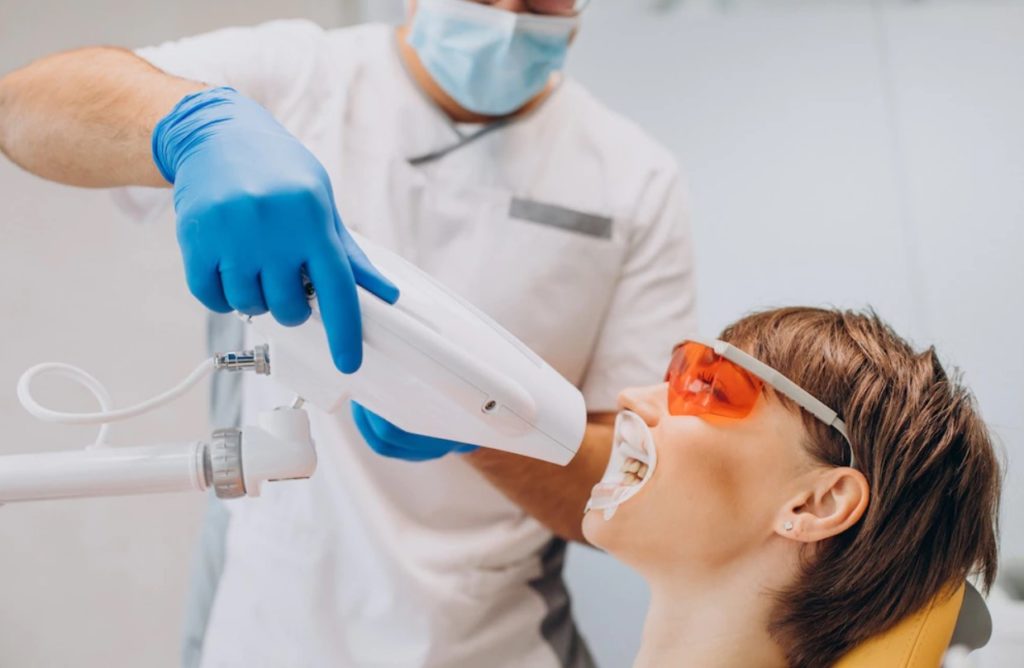 Laser gum surgery and other dental laser procedures are regularly performed using lasers. A laser is the best alternative to traditional, invasive surgeries when it comes to preventing gum disease or improving your smile.
Unlike traditional gum surgery, laser gum surgery requires no stitches and little recovery time. If you're looking for alternative treatments for dental problems, the laser makes the choice easy.
What is laser gum surgery?
Laser gum surgery is a new surgical procedure that uses laser light to enhance your dental health and smile. It's a technique for killing microorganisms and stimulating bone formation over existing teeth.
What are the top five advantages of laser gum surgery?
Laser gum treatment aims to counteract the harmful effects of germs while also assisting you in maintaining a healthy smile. Here are five advantages of laser gum surgery.
1. Less invasive
Laser surgery is significantly less intrusive than traditional gum surgery approaches. Conventional gum treatment necessitates the use of medical equipment that carve into the gingival tissue, resulting in painful sores that need sutures and recovery time. Since the light rarely penetrates your gingival margin, the danger of illness, hypersensitivity, and bleeding after the surgery is reduced. This also means that the possibility of problems is minimal. Because laser therapy is so light, many people are less scared to seek treatment for their dental health issues.
2. Treats gum disease
When gingivitis is not treated promptly, it progresses to periodontitis, and the periodontal disease progresses to tooth loss if not managed. This laser procedure can help patients with severe gum disease keep their original teeth. Gum disease causes deep enough pockets of germs that are unaffected by normal dental cleaning. A beam is more capable of killing all hazardous germs, even if they are lodged in deep pockets.
3. Improves smile
Straight, white teeth can boost your confidence in your smile. Gums are also crucial for your personality. Do you believe your teeth are "small" or that your smile is "clumpy"? If you think your gum tissue-to-tooth ratio is imbalanced, it may cause you to be self-conscious about your smile. Laser gum surgery in Chandler shapes your gums and removes superfluous tissue, providing you the gorgeous smile you've always desired.
4. Lasers are precise
During laser gum surgery, no healthy gum tissue is harmed. The laser is used by the doctors at the Peace of Mind Dental Studio to repair torn tissue and accelerate the creation of fresh, healthy cells. This procedure is incredibly accurate and consistent. The laser identifies healthy and malignant gum tissue. It also does not affect ligaments or dentition.
5. Fast recovery
Traditional gum surgery necessitates weeks of recuperation time, which includes discomfort, swelling, and a liquid diet. The recovery period for laser gum treatment in Chandler is 24 hours, and patients usually experience relatively little discomfort. Since there is no incision or stitches, the laser procedure allows for a speedy recovery with minimum interruption. Your dentist in Chandler removes minimal tissues by avoiding typical operating tools like scalpels, resulting in reduced discomfort, bleeding, and irritation.
Are you willing to learn more about laser gum treatment in Chandler? Schedule an appointment with the Peace of Mind Dental Studio to explore your choices. You may also call us or utilize our easy-to-use online appointment feature.