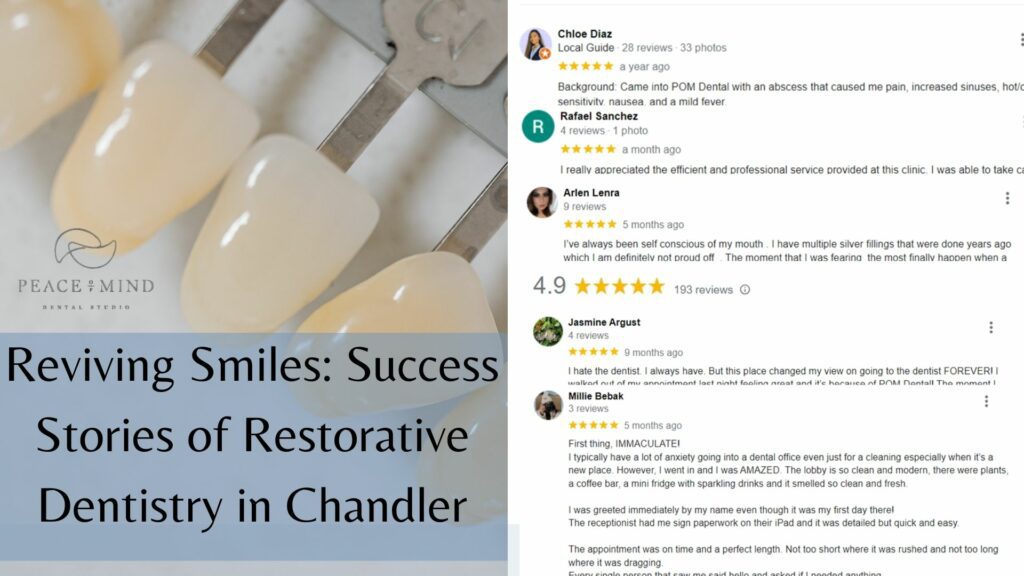 At Peace of Mind, we believe that a healthy smile is a reflection of well-being, and choosing the right dental clinic is paramount to achieving that. In this blog, we have curated honest and insightful reviews of our clinic, giving you valuable insights into our services, expertise, and patient experiences. So, let's embark on this dental exploration together and unlock the doors to exceptional restorative dentistry in Chandler that leaves you smiling with confidence!
Success Story 1: Efficient and Professional Service
I recently visited Peace of Mind, and I couldn't be happier with the exceptional care I received. From the moment I stepped into the clinic, I was greeted warmly by the friendly reception staff, creating a welcoming atmosphere.
The staff seemed experienced and skilled. They patiently explained the issue, the possible procedures and were not hesitant to answer my doubts. They were highly professional and polite during the entire process. I was astonished to see how well thought out their clinic was. They had a television installed on the ceiling with shows of your choice, and you could even select the music you would like to listen to. This was a small thing that personalized the whole experience.
I recommend Peace of Mind to anyone looking for exceptional restorative dentistry in Chandler, and I would definitely be returning for any of my dental problems. Thank you, Peace of Mind, for providing such a positive dental experience!
-Rafael Sanchez
Success Story 2: Overcoming Dental Anxiety
For me, dental procedures have always been accompanied by anxiety until I visited Peace of Mind. I was shaking before the process, which is why I felt so grateful for the staff who ensured I was calm, confident and reassured the whole time.
Dr Silverman and Damaris made my treatment seem like a breeze. They were extremely kind and reassuring. The entire procedure was pain-free, comfortable and seamless.
Peace of Mind's commitment to patient education was outstanding. Dr Silverman provided valuable tips and personalized advice to improve my oral hygiene, which I found extremely helpful.
Now that I have found a clinic that makes me feel comfortable and catered to, I will surely visit often to achieve my dream smile.
-Arlen Lenra
Success Story 3: Immaculate Facilities and Exceptional Care
I recently had the pleasure of visiting Peace of Mind, and it was an outstanding experience from start to finish. From the moment I walked through the door, I was in awe of how modern, clean and welcoming the clinic was. The lobby was decorated with plants, with a stocked coffee bar and a mini fridge, making my short wait extremely pleasant. How they cater to patients is immaculate. Even though I was visiting for the first time, the reception staff greeted me with my name and made the check-in process a breeze. All the employees were incredibly polite and made sure I was comfortable. The appointment was perfect as the doctor listened to my problem and explained my situation gently. The assistant walked me through the treatment process and ensured I was calm and reassured. It was the fantastic staff and doctor that exhilarated me.
I wholeheartedly recommend Peace Of Mind to anyone seeking top-notch dental services. Whether you need routine check-ups or specialized treatments, you can trust this clinic to deliver unparalleled care with a smile. I look forward to my next visit and continuing my dental journey with such a remarkable team.
-Millie Bebak
Success Story 4: Transforming the View of Dentists
As a person who holds a strong dislike for dental visits, Peace of Mind was a surprisingly pleasant experience. Even though I am usually anxious about dental visits, I was taken aback by the warm and inviting atmosphere the moment I walked in. The receptionist offered me snacks and beverages, making me feel like a guest rather than a patient. The lobby had a comforting ambience with soothing music that helped with my nerves.
Once in the dentist's chair, Dr Silverman and Damaris immediately put me at ease. Their friendly demeanor and reassuring explanations of the procedures helped alleviate any nervousness I had. The entire dental team demonstrated a high level of professionalism and made sure I was comfortable throughout the appointment.
In conclusion, my experience at Peace Of Mind was nothing short of exceptional. I left the clinic with a smile on my face, feeling confident in my oral health and eagerly looking forward to my next appointment. I highly recommend this clinic to anyone seeking top-notch dental care in a friendly and welcoming environment. Thank you, Peace of Mind, for providing such a positive and memorable dental visit!
-Jasmine Argust
Success Story 5: Easing Pain and Providing Exceptional Care
I came into Peace of Mind dental clinic with an abcess that caused me pain, increased sinuses, hot/cold sensitivity, nausea, and a mild fever. I was greeted with genuine smiles by the reception staff. Surprisingly, my appointment came in without any long wait. They took the time to listen to my concerns and thoroughly explained the treatment options available to me. I appreciated their transparency and felt confident in their expertise.
I tend to fall unconscious during procedures involving needles, but this was not the case this time. The staff gave me priceless advice and encouraged me to use facial cues when I needed a break or felt pain. I can genuinely say that Peace of Mind goes above and beyond in providing top-notch dental care. The level of professionalism, compassion, and expertise demonstrated by the entire team is truly commendable. All of my previous symptoms and complaints dissipated quickly following the procedure.
Unfortunately, I have often found other dental care providers to be condescending, dismissive and fail to diagnose properly. Thus, I prefer Peace of Mind as my primary dental care provider. They have earned my trust, and I am grateful to have found a dental practice that truly prioritizes their patients' well-being.
-Chloe Diaz
Conclusion

These success stories from Peace of Mind Dental in Chandler highlight the exceptional care and service provided by our team of dedicated professionals. From creating a welcoming and anxiety-free environment to ensuring patient comfort and satisfaction, Peace of Mind Dental Studio has truly revived smiles. If you're looking for a dental clinic that prioritizes your well-being and delivers outstanding results, Peace of Mind Dental Studio in Chandler should be at the top of your list.