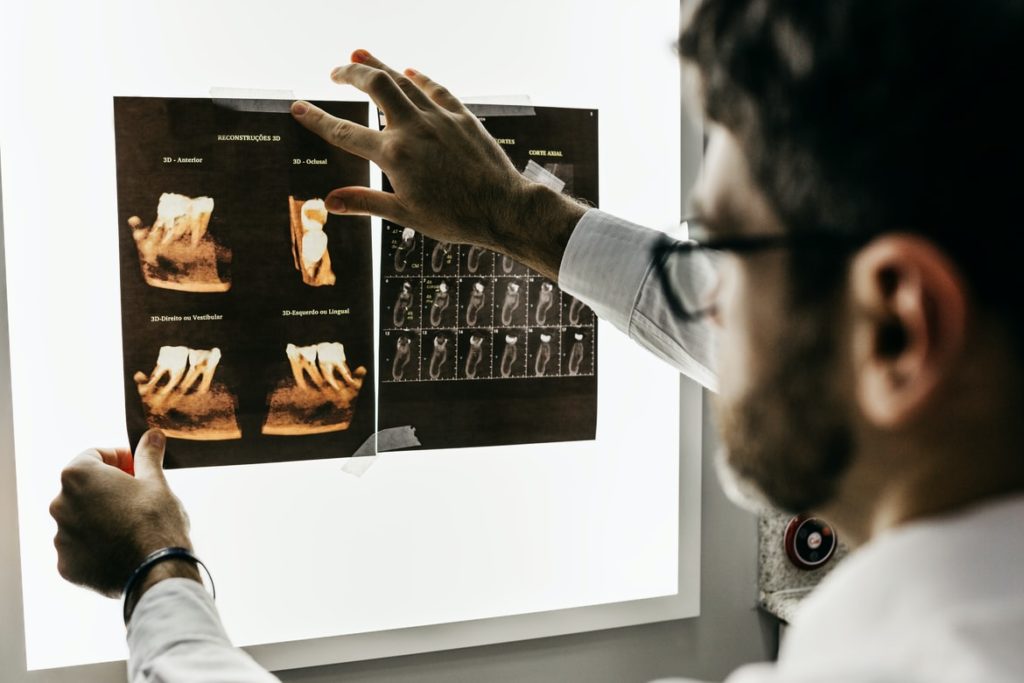 The safety of dental x-rays has long been doubted. Patients frequently want to refrain from taking dental x-rays because they are afraid of being subjected to radiation. This post is for you if you are one of these people!
Dentists in Chandler routinely utilize dental x-rays to determine the state of a patient's oral health. They are critical in evaluating whether or not there are any problems with the gums or teeth under the surface. Many patients have dental x-rays performed once a year to ensure that everything in their mouth is in good shape. If you have dental problems, mouth diseases, or other persistent issues, you may be asked to have x-rays taken more regularly.
Dental X-rays (radiographs) are pictures of your gums that are used by your dentist in Chandler to assess your dental hygiene. These X-rays, which employ scant amounts of radiation, are used to get pictures of the inside of your teeth and gums. This can assist your dentist in identifying issues such as cavities, dental decay, and affected teeth. Without the use of X-rays, many conditions would go undetected, such as: dental abscesses in bone, oral cancer, cysts, extra teeth, wisdom teeth impaction, etc.
Dental X-rays may appear to be complicated. However, they are a fairly common procedure that is just as vital as regular teeth cleanings.
Why are dental X-rays taken?
Dental X-rays are usually taken once a year. They may occur more frequently if your dentist in Chandler is monitoring the development of a dental condition or therapy.
The following factors may influence how frequently you have dental X-rays:
Your age?
Your present state of dental health
Any signs of oral illness
gum disease (gingivitis) or dental caries in the past
If you're a new patient, you'll most likely be prescribed dental X-rays so that your local dentist can receive a complete picture of your oral health. This is extremely important if you don't have any past dental X-rays.
While dental X-rays do include radiation, the amounts of exposure are so minimal that they are considered safe for kids and adults.
Are Dental X-Rays safe?
To prevent unnecessary radiation exposure to your vital organs, your dentist may place a lead bib over your chest, abdomen, and pelvis. Your dentist may use a thyroid collar if you have thyroid issues.
Radiographs are considered safe for the pregnant patient, at any stage during the pregnancy.1,2 Further, the American Congress (formerly "College") of Obstetricians and Gynecologists recommends that abdominal and thyroid shielding be used for pregnant patients when radiographs are being taken.1 (https://www.ada.org/resources/research/science-and-research-institute/oral-health-topics/pregnancy#:~:text=Radiographs%20are%20considered%20safe%20for,any%20stage%20during%20the%20pregnancy.&text=Further%2C%20the%20American%20Congress%20(formerly,when%20radiographs%20are%20being%20taken.)
Preparing for dental X-rays
No specific pretreatment is required for dental X-rays. Just one thing you'll need to do before your visit is clean your teeth. This provides a more sanitary condition for dental experts. X-rays are typically taken before the deep cleaning.
You'll remain in a seat with a metal waistcoat around your chest and lap at the dentist's office. The X-ray apparatus is placed next to your forehead to capture photos of your mouth. Many dental clinics keep X-rays equipment in a distinct area, while others keep them in the same area where they perform dental checkups and other operations.
The Bottom Line
Dental X-rays play an essential role in maintaining your overall oral health, just like brushing and flossing. While a seemingly healthy mouth can relieve stress, it does not mean you should not continue to have X-rays taken.
An X-ray may be performed every one to two years, depending on your age, health, and insurance coverage. Whenever you experience pain or other changes in your mouth, make sure you see your dentist sooner rather than later.
Peace of Mind Dental Studio is your family dentistry practice in Chandler. Is it time for you to choose a new family dentistry practice in Chandler? We pledge to be caring and dependable at all times. We will only provide you with the treatments that will actively help you, whether you require tooth fillings, dental X-rays, or comprehensive teeth cleaning. Our team is equally kind and approachable to patients of all ages.
Call Peace of Mind Dental Studio in Chandler to book a checkup or any other service.