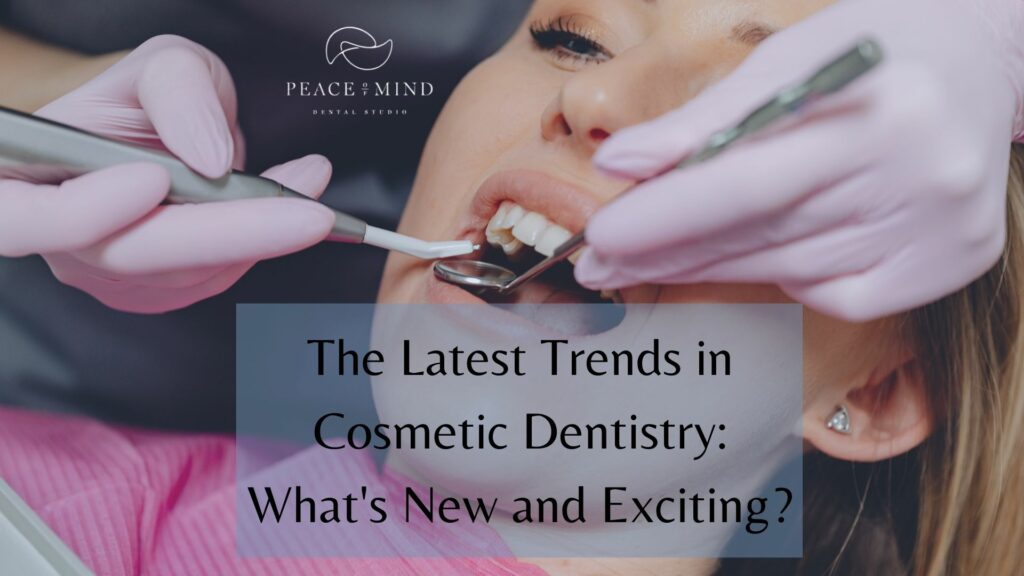 Modern technology is constantly at work to ensure you get the best treatment and dental procedures to keep your smile intact and beautiful. Cosmetic dentistry is a set of dental procedures that focus on your smile's aesthetics. Several unwanted incidents leave people underconfident and with scars or injuries on their faces and in their mouths which compel them to consult an expert in cosmetic dentistry in Chandler.
Researchers are striving to assist people more effectively, leading to many new trends in cosmetic dentistry. If you're looking for a suitable procedure, there are plenty of options worth exploring.
What is Cosmetic Dentistry?
If you are new to cosmetic dentistry, here is a brief introduction.
Cosmetic dentistry is a type of dental care that focuses on the aesthetics of your smile. Whether you need perfectly aligned teeth, whiter teeth, or a smile worthy enough to flash on TV, cosmetic dentistry is the option. It covers veneers, teeth whitening, inlays, onlays, composite bonding, etc. Read more about cosmetic dentistry treatment here.
Top Cosmetic Dentistry Trends in Chandler
Here are some trends in cosmetic dentistry that you must check out.
Smile Makeover
Every smile is beautiful, no matter what, but if you are unsatisfied with it and want to make it even more attractive, a smile makeover is for you. It requires a preliminary assessment of your teeth and what you are missing, whether it is the shape, size, crooked teeth, or gap between them. These questions are answered, and based on the answers, solutions are offered. For example, veneers are the solution for gaps between teeth. If your teeth are not as white as they should be, teeth whitening is the problem.
In short, all your smile's shortcomings are assessed and dealt with, and you leave the clinic with an improved smile.
Gum Contouring
It is a cosmetic procedure for people who don't have the perfect gums. Some people have too much gums over their teeth, or some have too little gums over their teeth. It makes their smile either too gummy or a "toothy grin."
Gum contouring offers a solution where the dentist reshapes your gums and makes them look normal. But gum contouring is not a simple procedure and requires expertise on the part of the dentist. Therefore, it is advised to consult a trusted cosmetic dentist in Chandler, such as Peace of Mind Dental Studio, if you consider yourself an ideal patient for gum contouring.
3D Printing in Cosmetic Dentistry
It might sound like a far-fetched reality, but 3D orienting has played a vital role in cosmetic dentistry. 3D orienting is known for accurate 3D objects from virtual designs. Dental products for cosmetic dentistry require precision and exact fit for patients' mouths so they don't feel discomfort. With varied printing materials, dentists can offer patients the care they deserve.
Use of Artificial Intelligence
When your dentist suggests a dental procedure, especially one that can change your facial structure or smile, it is natural to be skeptical of the results. "What if the result is not as is being promised?" or "What would I look like?" are some of the questions that bug your mind.
With artificial intelligence, dentists can deal with such questions easily. With the help of digital imaging, AI software can show you the results after the procedure, making it easier to decide. Patients feel confident when they can see results beforehand, making it easier for dentists as anxious patients often panic during surgeries.
Use of Laser Dentistry
The acceptance of cosmetic dentistry has significantly increased in the past two decades, and laser dentistry deserves the credit. This minimally invasive approach to surgeries and other dental procedures guarantees patients a pain-free experience. With fewer incisions required, it leads to reduced pain, discomfort and a shorter recovery period.
Cosmetic Dentistry in Chandler 
At Peace of Mind Dental Studio, we believe that reconstructing a person's smile directly affects their mind, body, and soul. Your smile shows confidence; thus, our experts are committed to giving you what you deserve. Whether it is teeth whitening, crowns, or veneers, we do our best to improve your smile.
We pride ourselves on the results we have produced so far. Thus, we allow you to track your progress through before and after photography, where you get high-resolution imagery of your smile before and after the treatment. The results speak for themselves. For more details, book an appointment now or give us a call.